Public Address Announcer & On Field Host ( AA Orioles )
Website BowieBaysox Bowie Baysox
AA Affiliate of the Baltimore Orioles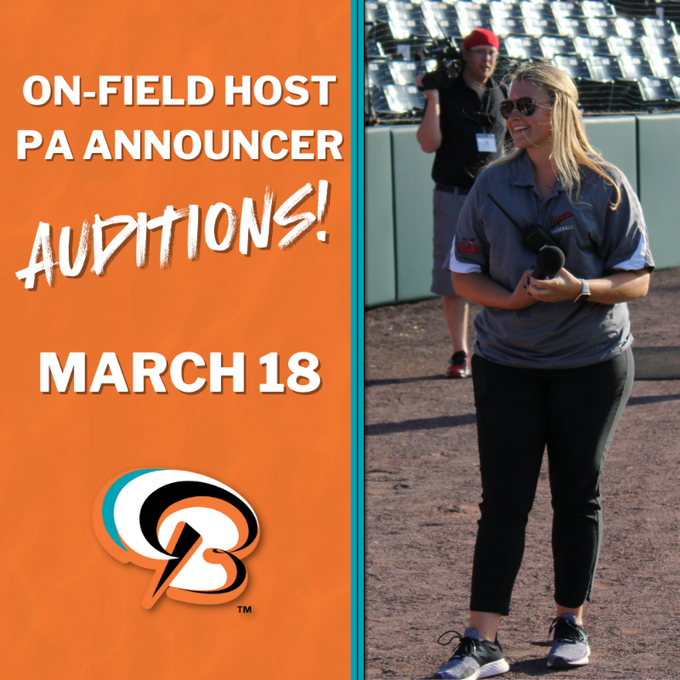 The Baysox are on the hunt for the two newest voices to entertain and inform fans at Prince George's Stadium for the 2023 season! Interested applicants are invited to attend open auditions to be the next Baysox On-Field Host or Public Address Announcer.
Auditions will be held at Prince George's Stadium on Saturday, March 18, starting at 10 a.m.
The On-Field Host is one of the most central roles in fan experience at the ballpark! Leading the in-game promotions and interacting with fans of all ages, the On-Field Host needs to have a great public presence and improvisational ability for entertainment.
The Public Address Announcer provides vital information and entertainment for fans every night over the stadium's loudspeakers. The Announcer needs to speak clearly and with enthusiasm from both a defined script, and from in-game events (Introducing Batters and Pitchers).
Both positions are paid per game worked and include free catered staff meals during game days.
Auditions are free, and do not require a registration to attend. In order to be considered for the role, applicants must be able to commit to at least 50 home games during the 2023 season.