Temporary Event Staff incl Public Address Announcer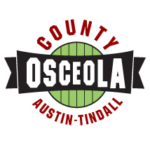 Website AustinTindallFL Austin Tindall Sports Complex
Osceola County
General Description of Duties
To provide service to the general public and assist in the overall operation during at Austin Tindall Sports Complex and/or Buenaventura Lakes Baseball Park Batting Cages.
Essential Job Functions
(Note:  These are intended only as illustrations of the various types of work performed.  The omission of specific duties does not exclude them from the position if the work is similar, related, or a logical assignment to the position.)
These positions may be responsible for collecting cash from patrons upon sale and reconciling at end of day. The position will also be responsible for light clean-up duty.
To perform in various types of positions such as but not limited to:
Greeters
Greeting of the general public to the facility.
Ticket Seller
Selling admission tickets/or wristbands to events, handling cash and credit cards. 
Ticket Taker
Verifying wristbands and/or taking tickets from patrons to allow them entry into events.
Tickets will either be ripped, retaining a portion of the ticket for accurate attendance, retaining entire ticket or scanning ticket with electronic device.
Parking Attendant
 Collecting cash, distributing parking tickets, directing patrons into a parking lot and/or parking space.
Usher
 Guiding and/or assisting patrons to their proper seating/standing area at events.
Security
Searching bags for prohibited items and clearing patrons for entry into events, monitoring said events by actively walking around and observing patrons in attendance; this position would not carry a weapon.
Gate Attendant
Monitoring lines at entry gates and assisting ticket takers and security personnel as needed.
Press Box
Assists scorekeepers, scoreboard/video board operators, p.a. announcers and members of the media during operation of an athletic competition event.
Scorekeeper
Keeps score at athletic competition events
Operates computerized electronic scoreboard and/or video board.
Batting Cage Attendant
Track online reservations and assist with walk-in reservations
Assist with the retrieval of balls
Responsible for maintaining area clear of clutter and other obstructions
Responsible for the opening and closing of batting cages for public use.
Customer Service Representative
Assists patrons with questions and directions at events
Runner
Retrieves and delivers goods needed during operation of an event;
Restroom Attendant
Cleaning of restrooms, restocking of paper products & soap dispensers
Rover
Picks up trash with a trash picker and a bucket throughout the property, emptying bucket into trash cans when full
May Assist groundskeepers in basic lawn care and landscaping tasks e.g. remove weeds, lays sod, spreads seeds, plants foliage and shrubbery, trimming landscape
Assists in basic field preparation duties, e.g. chalk field, paint foul lines, lay down field drying agent, remove and replace bases and mound, rake infield drying agent.
Ice Plant Attendant
Bag ice and stores in proper freezer
Fills coolers with ice and water for benches
Minimum Qualifications
High School Diploma or GED
Six (6) months customer experience dealing with the public
Must possess a valid Florida Driver's License
Knowledge, Skills and Abilities
Knowledge of basic English and math skills.
Ability to communicate effectively orally and in writing.
Ability to establish and maintain effective working relationships with the public and employees.
PHYSICAL DEMAND REQUIREMENTS:
Physical Demand:  Light
20 pounds maximum lifting.
Frequent (up to 2/3 of the work time) lifting, carrying up to 10 lbs.
If less lifting involved will require significant walking/standing may be required.
If mostly sitting is involved will require push/pull on arm or leg controls.
Expressing or exchanging ideas by spoken word or perceiving sound by ear.
Good eye sight for production or safety of self and others.
Most positions require physical agility required in kneeling, bending, stooping and reaching.
Some positions may accommodate physically handicapped.